CALL for Immediate Service
"Our mission is to provide the best stump grinding service at a great price!"~ Daniel Murphy, President
We are committed to doing superior work at competitive pricing. The quality of our equipment and skills of our expert operators makes it possible for us to give you great service at an affordable price. We love to give neighborhood discounts so tell your friends and neighbors.
Daniel Murphy is also a highly experienced arborist with years of experience doing tree removal, tree pruning, tree cabling, hazardous tree evaluations, storm damage, and more. Our experience extends back as far as 1982 for Hurricane Hugo. We also worked Hurricane Isabel, Charlie, Jean, and Francis in 2005, and hurricane Sandy in 2012 and 2013.
We care about your property.  We are lawn friendly, especially with trunk, limb, and debris removal.  Our lawn friendly skid steer loader is compact and powerful, but at the same time has turf tracks specifically designed for working on golf courses to avoid any lawn damage. These tracks will not rut up your yard. Extremely low ground pressure allows us to move wood, Limbs, and tree debris quickly and efficiently. So if you need more than just stumps we can get it done.
Any Stump. Any Size. Any Place.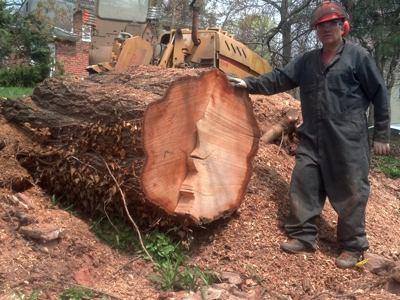 Responsiveness:
We answer the phone or return your call promptly when contacted. We will take your contact information and detailed descriptions of the stump(s) you need removed and give you a price right over the phone.
We then can often provide the same or next day service. Keeping excess equipment and operating capacity, allows us to cater to those in urgent need of emergency stump grinding services.
Performance:
We use the best stump grinding equipment available and know how to use it. Our well trained operators have hundreds of hours of experience, making us fast and efficient in simple or highly complicated stump removal situations.
We also have very efficient equipment and techniques used to contain the stump grindings, dust and dirt, and clean up afterwards.
Integrity:
We do what we say we are going to do, or call you to make other arrangements in case of unforeseen changes.
Clean up:
All we leave is a nice neat pile of stump grindings. We will not leave your property a mess. We will cover your house and other valuable property with tarps to keep them from getting dirty. We will blow off all dust and dirt from your driveway, sidewalks, patios, decks etc.
We have specialty equipment to clean up all stump grinding chips from your lawn. Our clean up is fast and efficient. We believe that a good clean up is a mark of professionalism that helps separate us from our competitors.
Price:
Our volume of work combined with the quality and power of our equipment, make us very competitive on pricing, especially on large tree stumps or jobs with many stumps.
Our goal is to provide the absolute best stump removal service at competitive prices. What more could you ask for?
In the rare case that some portion of your stump or surface roots are not completely removed at the depth and specifications agreed, we will immediately and at no additional charge, return and grind the remaining stump and/or roots.Just call us 800-978-8677. We know that happy customers are the life force of any company, and we will take whatever measures are necessary to keep our customers happy.