Your subscription is not active
Please visit the admin site to re-activate your subscription
I would highly recommend stump munchers. Great price and great service!!
---

Steven Brusstar., May 2016 –
Very Professional. Did a great job of clearing two large stumps. Thoroughly cleaned up all of the chips from the lawn.
---
Daniel is a class act. He really knows what he is going and uses top-of-the-line equipment to get perfect results. I called on a Monday, stumps were gone by Thursday and at a very reasonable and fair price. Hands down, Daniel Murphy is the only guy to call for tree work, period. As the owner of the company, he stands behind his work and is a complete professional. I highly recommend Stump Munchers.
---

Ben O'Brien., May 2016 –
Daniel Murphy came to my house the same day I called in order to get our yard ready to put down sod the next day. He got rid of a very large stump and all of its roots in the front yard that were left after the previous owner only partially removed it. His price was competitive with other estimates I received. He was friendly and professional. I would hire him again.
---

Joe L., April 2016 –
Great job stump munchers. I'm building a garage in my backyard. I needed three stumps ground out two of which had to be very deep and we're very close to the fence. Dan did a great job. Course I watch them every second. Looking forward to seeing my new car is in the garage thank you stump munchers.
---

Patricia H., April 2016 –
Stump grinding job in Gladwyne, PA. Quick response and great job!
---

Pete N., April 2016 –
It was a pleasure using stump munchers tree service I would rate high in service, availability and experience. I would also recommend them to all without reservation.
---

Dan F., April 2016 –
Fast Service – Very satisfied. I called this morning to get a price on removing 15 Hemlock tree stumps.. They were small to medium in size. The price was very reasonable considering the access to the yard was not the greatest. Daniel arrived later that day as he had other jobs in the area and was able to quickly remove the stumps such that I would be able to plant bushes in the same area. Very satisfied with the experience.
---
Called and three days later the stumps were removed. Good, fast, can't help enough.
---
Robin Smith., April 2016 –
Dan Murphy from Stumpmunchers is absolutely the best. He worked with me to remove 5 stumps and a very large stump for a VERY reasonable cost. They called and came when promised and were prompt and very professional. I would recommend this company to anyone.
---

Lynn F., April 2016 –
Dan's the Man!! Very professional & knowledgeable. Returns phone calls and arrives on time. Great job! Awesome. Will use him again.
---

Karen Downard., April 2016 –
We were very impressed with their responsiveness, price and the job itself. Give them a call, you won't be disappointed!
---

Bill Cook., April 2016 –
Save your time! Call right to Stump Munchers, Dan is a man of his word! unlike the other two companies I spoke with. One company cut my tree never to return to remove stump even after he was paid. The other was dropping Cards in the neighborhood so I figured I give him a try, He gave a price and a two day span of him coming to remove – nope never showed never called until 3 weeks later asking to come remove the stump? I called and spoke to Dan, He answered phone on second ring gave a price told me he would take care of me. Well Guess what Dan showed up a day later at my door a little before 8 P.M. Removed stump with the day light that was left and cleaned up. Kind of wish I had a couple more stumps for him to remove my job was kind of small. I really appreciate Dan and his work. I will be recommending him to anyone I hear talk about having tree or stump removal work. PHENOMINAL SERVICE! VERY PERSONABLE! THANKS AGAIN DAN!
---

Martin Micklin., April 2016 –
Stump Munchers owner Daniel Murphy, came out last weekend and ground 2 huge stumps by our creek which had been left behind after the tress were knocked down during a storm. Daniel used his top of the line grinding machinery to remove the stumps and avoided the majority of the chips from going into the creek. We were highly impressed with his skill and thoroughness in clean up and the price was very competitive.
---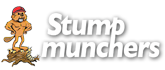 Copyright © 2014 Stump Munchers - All Rights Reserved